Announcing Relica 1.0
November 7, 2018
It's here! Relica 1.0 is now available for Windows, macOS, and Linux. Most notably, this version introduces "bring your own cloud" destinations, which is an advanced feature that enables you to back up to your own cloud storage remotes—our most requested feature! (We also got Apple code-signed, and we're working on the same for Windows.)
Relica upgrades itself automatically, so version 1.0 is now rolling out to your computers if you already have Relica installed.
We're excited to bring our first major release to you and to show off some of its coolest features! Let's take a look at some of them and what is coming soon.
New feature: Back up to your own remote storage
Relica already offers a fully-managed cloud backup solution called the Relica Cloud, which is a fast, highly-available place to store your backups: we replicate your backups to multiple, independent cloud providers in real-time. It's easy enough for the average computer user to use ("it just works") and powerful enough for businesses and professionals.
However, this option may not satisfy everyone, especially in advanced use cases where there's highly specific storage requirements. So today, we're making it possible for you to store your Relica backups in any of these types of storage locations:
Amazon S3
Backblaze B2
Digital Ocean Spaces
Google Cloud
Jottacloud
pCloud
Microsoft Azure Blob Storage
SFTP
Wasabi
WebDAV
Any other S3-compatible service (Minio, Scaleway, etc.)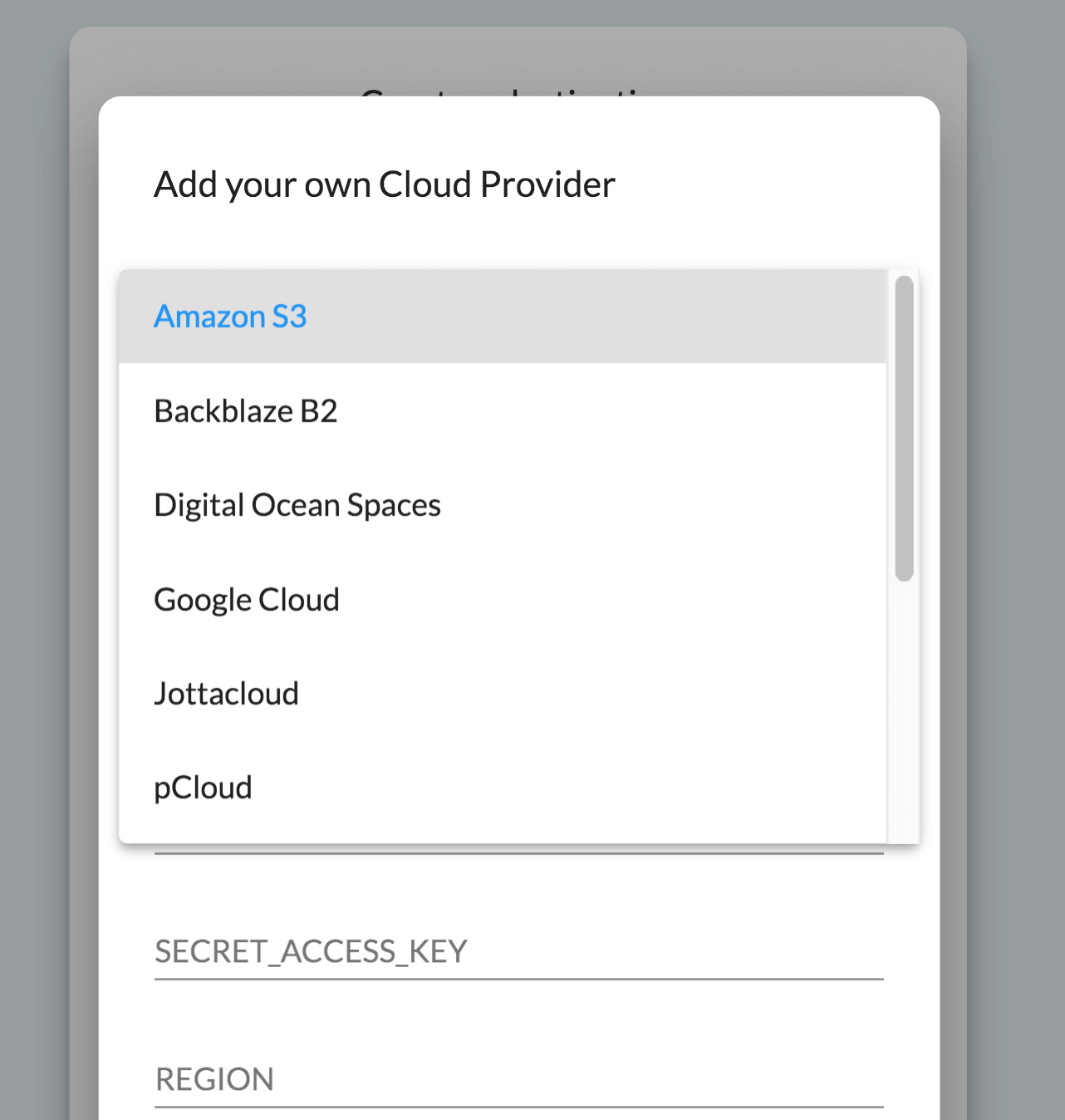 Simply select "Your own cloud" when creating a destination, and fill out the credentials. Your credential information is encrypted so we cannot read them. Relica does NOT need be installed on any of these remotes for your backups to succeed: you just need proper credentials.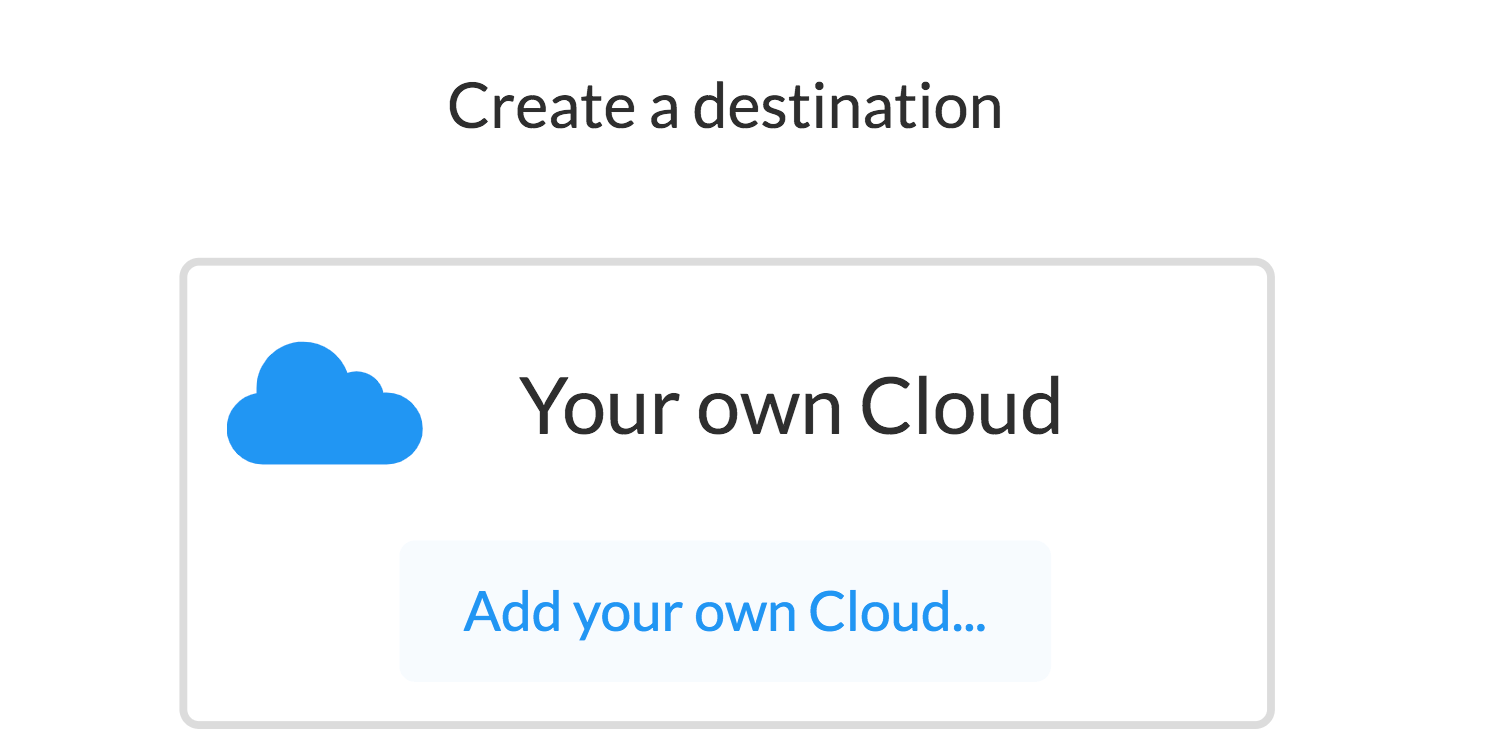 This feature is unlimited and included with your membership subscription.
Referral program
Did you know that if others sign up with your referral link, you both get $20 toward your membership subscription when they become a paying customer?
That means if you refer just 3 new customers per year, your membership subscription is perpetually free.
That's pretty cool! So share your referral link -- get it in your Relica app or on our billing page.
Relica Cloud
As mentioned above, the Relica Cloud is the easiest way to make the most reliable, highly-available off-site backups, and it works for everyone: even non-technical computer users.
If you haven't given the Relica Cloud a try, we recommend doing so! It's affordable for most consumer and professional backup needs, and more convenient than any other cloud backup service (none of which do the real-time replication that we do). You can choose how many providers to back up to; we usually recommend 2 for a nice balance of price and availability. No matter how many providers you choose, your data only gets uploaded once, which makes Relica Cloud backups up to 5x faster than any comparable cloud backup software!
Last week, a Relica Cloud storage provider underwent maintenance and had intermittent connectivity issues. However, customers who back up to multiple providers had absolutely no issues restoring files during the maintenance downtime. It really works—and that's really important when your data is valuable to you.
If you find yourself manually backing up to multiple cloud providers using other backup solutions, try the Relica Cloud. No other backup software that we know of will back up to multiple, independent cloud providers with only a single upload of your data, saving you time, money, and keeping you more productive.
Next up: The new user interface
We're already revamping how the Relica app looks and feels. Our current user interface (UI) has some limitations because it was designed while the app was still evolving, so it's time to improve on it. We've already begun working on this and are putting our full attention to it. Although it is not available with today's release, it should be ready later this year.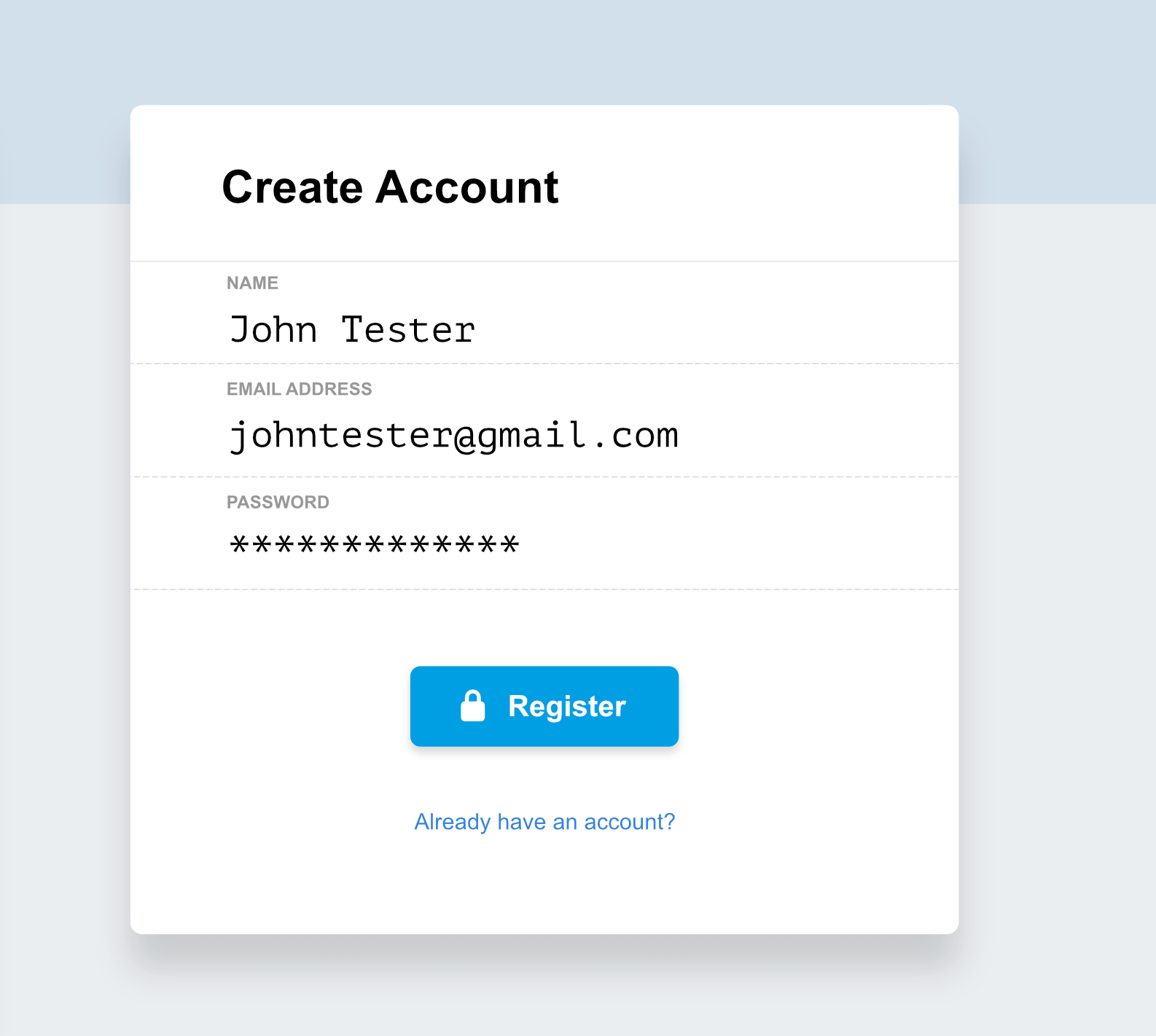 The new UI will eventually feature real-time updates on your backups and restores, including the ability to see which files are being processed, a progress bar, and other information that will give great insight into what is currently happening with your backups. You can follow this pull request for updates on that.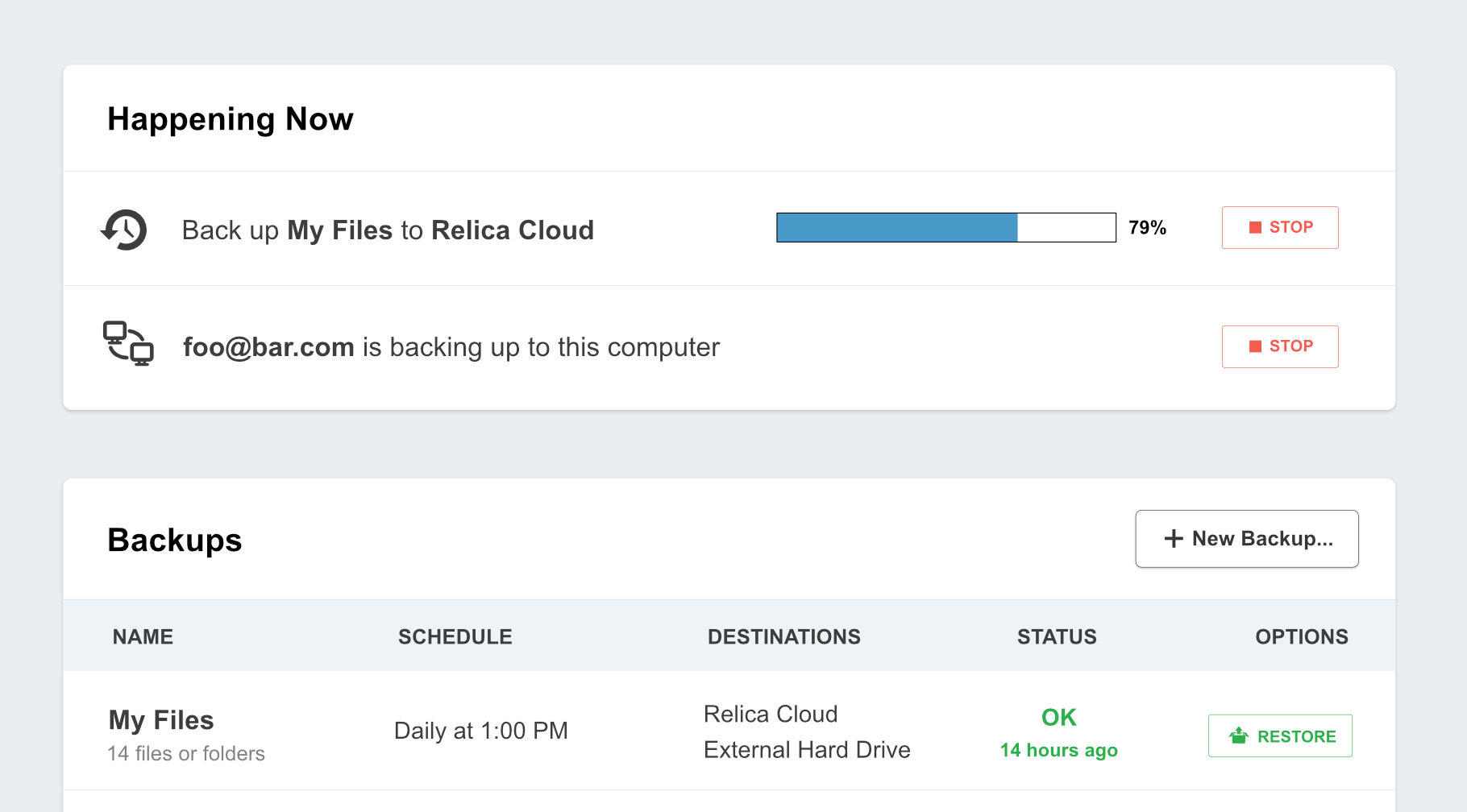 We're also totally redesigning the restore screen. The most important part of backups are restores, so we've been concentrating our design efforts on the restore screen. And it's really, really cool. Files from all your backups and all your destinations will immediately start filling your screen in a nice, organized tree view. You will also be able to filter by file name or edit your include/exclude list manually.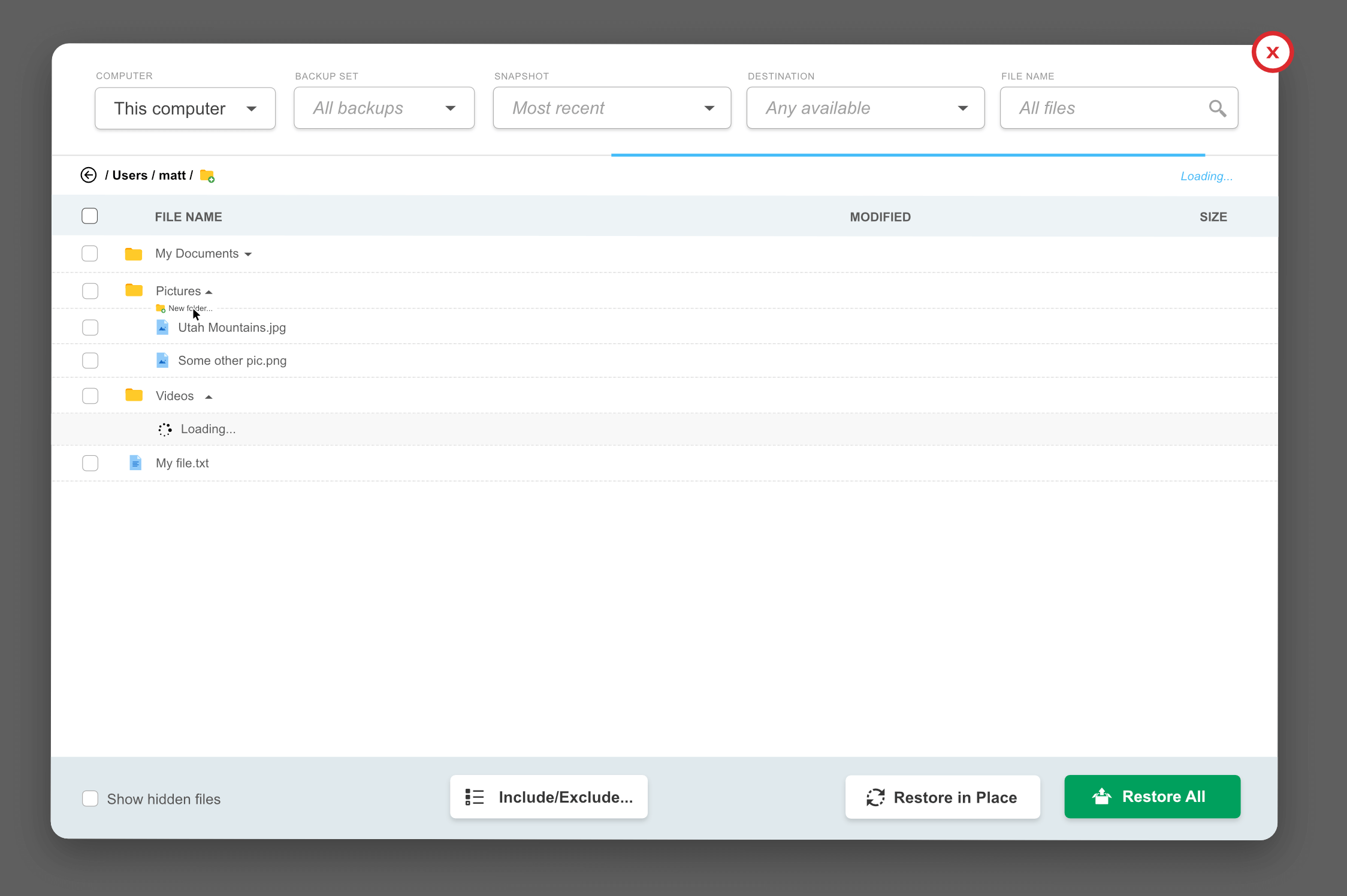 It'll be interesting to see how this all evolves between now and the actual release, so remember that these are just design mockups (although coding is already started) and the final product may look different have a slightly different feature set.
Editing destinations and sharing storage will also be more refined and much simpler than it is now: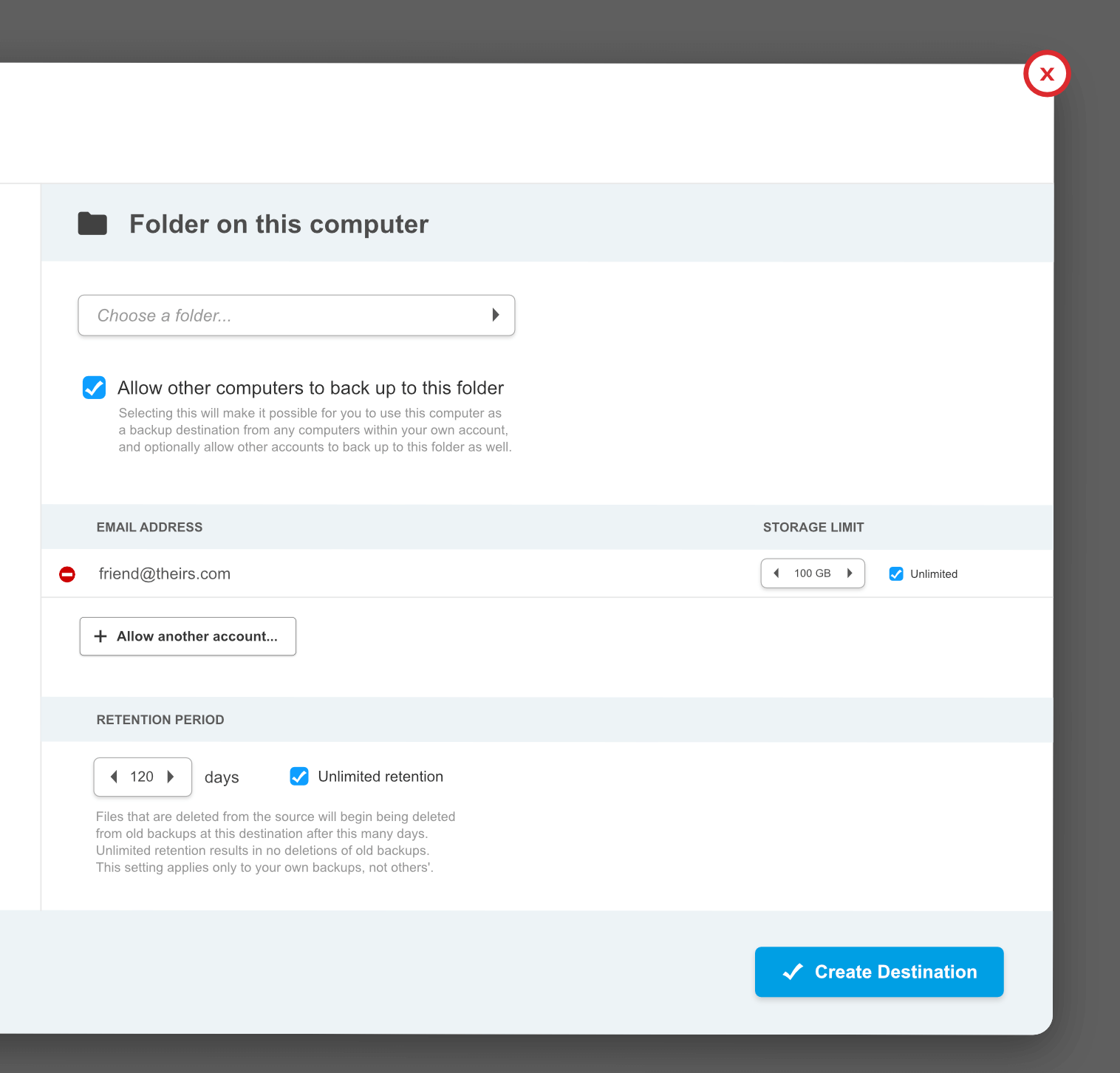 There's a lot happening, and we can't wait to show you more! So stay tuned.
Coming soon: web-based restore
We want to make sure you have access to your files no matter where you are. It follows that you should be able to restore from backups that are stored online ("in the cloud") no matter where you are.
That's why work has already begun on the ability to restore files from our website. You will be able to restore from the Relica Cloud or your own cloud storage. In the future, we'll look into adding support for restoring backups stored on friends' computers as well.
We've already got this working from beginning to end, but we need to make sure the restore screen is just right, so we're going to finish the new UI experience first, then adapt its restore screen to our website.
By being able to restore from our website, you'll be able to download any number of files of any size (subject to physical resource constraints of course) from anywhere with Internet access -- including mobile devices -- with no need to install Relica.
We're just getting started, and we want to hear from you
If you are using Relica and love it, great! Share your referral link to get discounts. If you have questions or feedback, feel free to email us. We look forward to serving you!