Download & Install
Download & Install Relica Backup by following the instructions on our Download page.
Relica works on all major operating systems, Windows, macOS, Linux, and BSD, with an intuitive interface that opens right in your web browser and is the same on every operating system.
Relica supports advanced files such as symbolic links, dotfiles and ZFS filesystems, with no default or hidden exclude lists.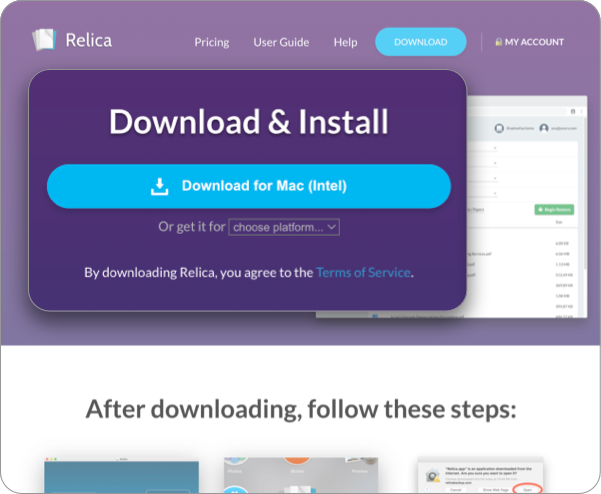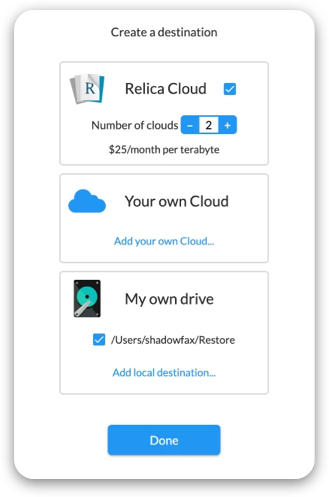 Schedule Backups
After installation, select the files you want backed up and where. Adjust the backup interval to your needs. Relica automatically takes care of the rest in the background.
You can use the Relica Cloud, a fully-managed, secure cloud solution, where you can store up to five independent backups stored in separate locations for maximum availability.
You can also use your own storage devices, cloud providers or even your friend's computers.
Recover With Ease
The whole point of backing up is being able to recover your files in case of disaster. If you lose access to your files, Relica makes recovery simple and easy.
Backups are organized by snapshot, which is a consistent view of each file as it was backed up. Snapshots allow you to restore a group of files to an approximate point in time. By default, your files have unlimited retention.
Alternatively, you can recover your files with the open source tool restic, alleviating total reliance on Relica in case of emergencies.